HISTORY OF CREATING "REEFURL" ROLLER REEFING FURLING SYSTEM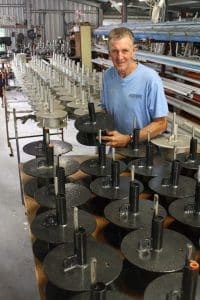 Not being able to justify the cost of purchasing a furling system for several thousand dollars we decided to make a furling system that would not only roll the sail but would allow us to have it partially deployed (reefed) as well.
From a humble beginning in 1985 we manufactured one reefing, furling system for our own 45 foot Catamaran.
We were immediately asked to make similar systems for the sailing boats moored close by and so began our business of manufacturing furling systems for the sail boat industry.
By manufacturing and using the system myself and with feedback from customers we have, over the years improved, modified, strengthened and changed the system to achieve our commitment to make the strongest and most reliable furling system available with a warranty to match.
We now produce a range of furling systems to suit the largest commercial or world cruising or racing sail boats, down to the small trailer sailers.
We look forward to supplying a system for your sailing boat that will make sailing far more enjoyable, very efficient and much safer.