REEFURL ROLLER FURLER BENEFITS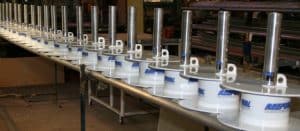 Benefits of a Roller Furler
GREATER SAFETY: Setting, reefing, rolling and securing the sail is all done from the safety of the cockpit without the use of a winch.
EASY REEFING: In storm conditions the sail can be reefed in a matter of seconds without you or your crew risking life or injury on a wave swept bow, fighting waves and a flapping Jib or Genoa.
ENJOYABLE: Because of the ease and simplicity of 'REEFURL', sailing will immediately become more enjoyable. Where previously you may not have bothered setting sail, you can now set a sail and be sailing in just seconds.
COST SAVING: Your one Genoa can be reefed to become a Jib or Storm Sail or anywhere in between, thus saving the cost of several headsails each of which would more than exceed the cost of a 'REEFURL' reefing furling system.
FINALLY, a totally reliable furling system, proudly manufactured and marketed at a very realistic and affordable price.